1998 CESSNA CITATION JET
Sold
SPECIFICATIONS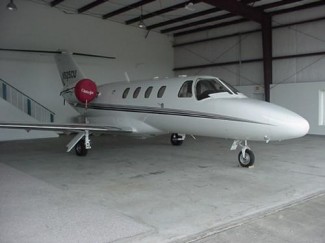 Engine:
310 SINCE HSI (1,200 CYCLES)
Auto-Pilot:
SPERRY SPZ5000 2 TUBE EFIS A/P, F/D
Avionics:
RVSM
DUAL KING KY 196B COMS
DUAL KING KN 53 COMS KING KRA 405 RAD. ALT.
DUAL KING KN 63 DMES
BF GOODRICH SKYWATCH HP
KING KR 87 ADF
KLN 900 GPS
HONEYWELL C-14D COMPASS SYS
LANDMARK TAWS 8000 GPWS
KING RDR 2000 COLOR RADAR
STANDBY GYRO
B&D CABIN DISPLAY UNIT

Other Equip:
TAP ELITE (FULLY PAID)
AFT BAGGAGE W/SKI RACK AFT DIVIDER W/MIRROR
50 CU FT OXYGEN SYSTEM LARGE 44 AMP BATTERY
DUAL AIR DATA SYSTEMS MONORAIL SUNVISOR SYSTEM
WOODWARD ENGINE SYNC PULSELITE SYSTEM
JEPP CASES CESSNA CESCOM
Exterior:
SNOW WHITE W/4 ACCENT STRIPES, TITANIUM SILVER, MEDIUM CONCORD BLUE & IMPERIAL RED
Seating:
5 PASSENGERS W/BELTED POTTY SEAT FOR 6
FOLDING TABLE/BRUSHED ALUMINUM FINISH TO HARDWARE. REFRESHMENT W/ICE DRAWER
Remarks:
NEW PHASE 1-IV DONE AT JET AVIATION DALLAS
PHASE V DONE 3/2005 AT 1.555 HRS, NEXT DUE 2.755 HRS OR 3/2008
ALWAYS HANGARED
NO DAMAGE HISTORY

All Specifications Subject to Verification By Purchaser or His Agents on or Before Time of Delivery
PERFORMANCE
MAXIMUM FUEL CAPACITY:
495 gal
TAKEOFF OVER 50 FOOT OBSTACLE:
3080 ft
LANDING OVER 50 FOOT OBSTACLE:
2750 ft
Performance specifications are provided as general information and may not be completely accurate. This information should
NEVER
be used for flight planning!