SPECIFICATIONS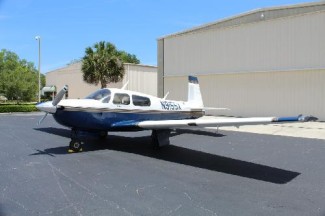 Auto-Pilot:
BENDIX KING KAP 150 W/KCS 55A HSI
Avionics:
P.S. ENGINEERING AUDIO PANEL W/3 LITE MB & INTERCOM
GARMIN GNS 530W GPS/NAV/COM (1gs)
GARMIN GTX 345 XPONDER W/ADSB IN & OUT W/BLUE TOOTH
BFG WX 950 STORMSCOPE
KING KX 155 NAV/COM

Other Equip:
JPI EDM 700 GRAPHIC ENGINE MONITOR
MINI-FLOW FUEL COMPUTER
PRECISE FLIGHT SPEED BRAKES
DUAL TOE BRAKES
POWER FLOW EXHAUST SYSTEM
Exterior:
JUNEAU WHITE, MED CONCORD BLUE & GOLD
Interior:
WEDGEWOOD BLUE FABRIC & VINYL

All Specifications Subject to Verification By Purchaser or His Agents on or Before Time of Delivery
PERFORMANCE
ENGINE(S):
LYC IO-360-A3B6D
MAXIMUM FUEL CAPACITY:
64 gal
TAKEOFF OVER 50 FOOT OBSTACLE:
1700 ft
LANDING OVER 50 FOOT OBSTACLE:
1600 ft
Performance specifications are provided as general information and may not be completely accurate. This information should
NEVER
be used for flight planning!