1972 PIPER PA 28-180G
Sold
SPECIFICATIONS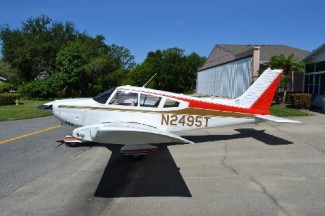 Engine:
487 SMOH (ZEPHYR ENGINES)
Avionics:
GARMIN GMA 340 AUDIO PANEL
GARMIN GTN 650 GPS/NAV/COM
KING KX 155 NAV/COM
GARMIN GTX 345ES W/ADSB IN & OUT
GARMIN AERA 660 GPS
INSIGHT STRIKE FINDER
Other Equip:
ELECTRIC AILERON TRIM
GEM 602 EGT & CHT
LoPRESTI WING TIP W/STROBES
Exterior:
JUNEAU WHITE, MADRID RED & LAS VEGAS GOLD
Interior:
MEDIUM TAUPE FABRIC
Remarks:
'EXCEPTIONAL" - Same Owner for 48 Years!

All Specifications Subject to Verification By Purchaser or His Agents on or Before Time of Delivery
PERFORMANCE
MAXIMUM FUEL CAPACITY:
50 gal
TAKEOFF OVER 50 FOOT OBSTACLE:
1620 ft
LANDING OVER 50 FOOT OBSTACLE:
1150 ft
Performance specifications are provided as general information and may not be completely accurate. This information should
NEVER
be used for flight planning!