1976 BEECHCRAFT B-55 BARON
Sold
SPECIFICATIONS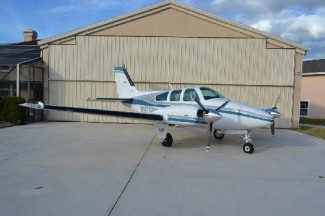 Engine:
LEFT: 1246 S/FAC REBUILT
RIGHT: 1246 S/FAC REBUILT
Propeller:
LEFT: 72 SPOH
RIGHT: 72 SPOH
Auto-Pilot:
CENTURY IV W/HSI & FD
Avionics:
GARMIN GMA 340 AUDIO PANEL
GARMIN GNS 530 WAAS/GPS/NAV/COM (1gs)
COLLINS VIR 350/351 NAV/COM
GARMIN GTX 330 W/ADS-B OUT
BENDIX RDR 150 B&W (INOP)
Other Equip:
DE ICE BOOTS
ALC. PROPS & WINDSHIELD
V G KIT
LARGE BAGGAGE DOOR
DUAL YOKE
FACTORY OXYGEN

Exterior:
MATTERHORN WHITE, POLAR GRAY & CONCORD BLUE

All Specifications Subject to Verification By Purchaser or His Agents on or Before Time of Delivery
PERFORMANCE
MAXIMUM FUEL CAPACITY:
112 gal
TAKEOFF OVER 50 FOOT OBSTACLE:
1225 ft
LANDING OVER 50 FOOT OBSTACLE:
1370 ft
Performance specifications are provided as general information and may not be completely accurate. This information should
NEVER
be used for flight planning!