1987 BEECHCRAFT F33A (55O CONV)
Sold
SPECIFICATIONS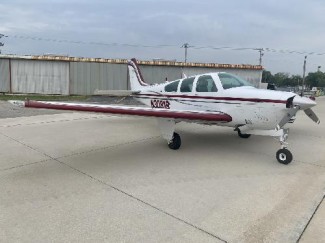 Engine:
740 S/FACTORY REMAN
Auto-Pilot:
KING KAP 150 W/ASPEN EFD 1000 PFD
Avionics:
P.S. ENG. 8000 AUDIO PANEL W/INTERCOM
GARMIN GNS 750 GPS/NAV/COM (1gs)
KING KX 155 NAV/COM
GARMIN GTX 345 XPONDER ADS-B IN & OUT
GARMIN 796 GPS (HARD WIRED)
BOSE AP 20 HEADSETS

Other Equip:
FACTORY AIR
DUAL YOKE
JPI FUEL SCAN 450
STAND BY VAC PUMP
LARGE DOOR
E.I. EGT
Exterior:
MATTERHORN WHITE, VIVID RED & SILVER
Interior:
WHISPER GRAY LEATHER
Remarks:
BEECHCRAFT EXCELLENCE

All Specifications Subject to Verification By Purchaser or His Agents on or Before Time of Delivery
PERFORMANCE
MAXIMUM FUEL CAPACITY:
74 gal
TAKEOFF OVER 50 FOOT OBSTACLE:
1769 ft
LANDING OVER 50 FOOT OBSTACLE:
1324 ft
Performance specifications are provided as general information and may not be completely accurate. This information should
NEVER
be used for flight planning!